We carry out repairs to Admiral fridge freezers in London
Admiral GC2224GEKB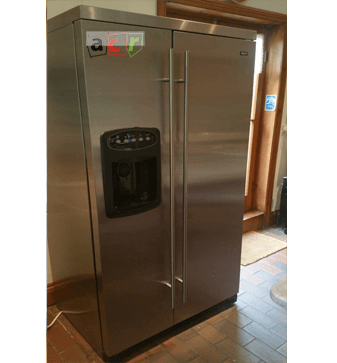 Admiral Fridge Repairs
Admiral fridge is undoubtedly one of the best you have ever come across. Regarding quality and durability, it is a leading brand. It is top of the line in design, and it can add a lot to the décor of your kitchen. It is long-lasting, and you will get a good value on every pound you spend on it. Many individuals use it out there today, and they have nothing short of praises for it.
Admiral refrigerator satisfaction, you will love what you get from it. It is reliable and gets the job done the right way. You will like to recommend it to your friends too.
Admiral refrigerators are one of the leading fridge brands in the United States today. Many homeowners prefer this brand, not just because of the honourable name, but primarily because of the top quality of the product. The fridge lasts long and can withstand the most challenging of conditions. It is mainly made to be energy efficient, and it will therefore not cost you an arm and a leg regarding power consumption. If you want good value for money, it is in your best interest to go for this brand of fridge. Its design is exquisite, and its makeup is top of the line. Not all repairers can carry out admiral refrigerator repairs. You must, therefore, be very careful when you are handling the fix to any technician. What are the things you must consider before you hand over your admiral refrigerator to a technician, some of these things will be looked into below,
Consider the charges
Make sure the technician helping you with the Admiral Fridge repairs is not charging you any hidden fee. Work only with a technician ready to carry you along in the course of the repair. Find out what the charges are from the start, and this will help you to decide if you want to proceed with the repair or not. If the costs are too high, you can always look for another service provider to work with. Reasonable fees on the repair should include VAT, but we do not charge any VAT  professional safety check, spare parts, labour fee, call-out fee and evaluation fee. You may want to compare the charges with what other services providers are demanding.
No, fix no fee!
Before you give your refrigerator to any of the repairers out there to carry out any fridge repairs, make sure the repairer is ready to get the job done before you pay a dime. If the fridge is not repaired, they should not expect any payment. Very few repairers can agree to this term; the few that can give such consent are the reliable ones. Consider how long the service provider had been in the profession. Go only for those among them that had been around for a very long time. Those long-standing service providers like Acr Repairs have built experiences over the years, and they can be trusted to get the job done the right way. Make sure you read up on online reviews about the service provider before you give them the repair job. Work with them only if the reviews about them are good.